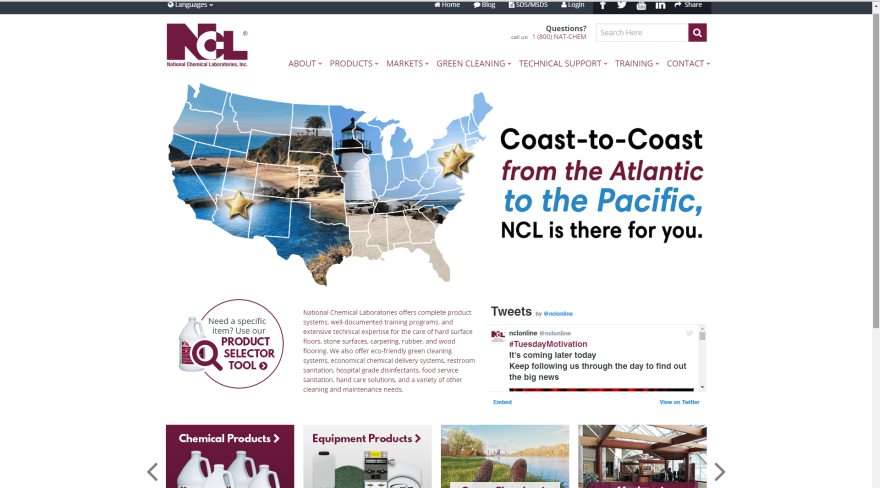 Redesigned Website Offers More Than Just A New Look
Everyone, at one time or another, has found themselves in this exact or in a similar situation. The clock is ticking and you need information on a product – fast. You go to the manufacturer's website and your production comes to a screeching halt. Navigating their website makes you feel like a laboratory mouse in a maze. Your frustration builds, your patience thins, your focus decreases, and your productivity diminishes.
At nclonline.com, as you have already seen, we have recently introduced a total redesign of our website. Aside from the crisper, more modern layout, we have designed our site to provide you with more information in an easier to navigate format. This runs contrary to the strategy employed by others in and out of our industry.
When frustration mounts when trying to navigate a difficult webpage, many wonder (either internally or aloud), "Why is this page designed like this? Why can't I find the information I need without jumping through hoops and going around in circles?"
Was the difficult design a product of poor planning or was it designed to be difficult by design?
The answer may surprise you but many companies across many different industries intentionally design websites that require you to do some searching before finding what you want. By forcing one to actively search through many screens before finding what they want, they may stumble on new information or products they otherwise would not be aware of if their search was completely linear.
An accurate analogy is when your local supermarket re-merchandises. They know many of their regular shoppers are creatures of habit and repetition. They know many of their regular customers can go in one day blindfolded and still make their way to the middle of aisle five, top shelf on the right, to find their favorite coffee. Still blindfolded they could probably make their way to the start of aisle seven, middle shelf on the left, to pick up their preferred brand of cereal. Re-merchandising forces the regulars to actively explore each aisle in search of their favorites and hopefully discover new, additional items to add in the cart.
Our goal with the redesign of nclonline.com is the opposite. We designed this site to make navigation easier and information more abundant.
Our product pages now include multiple tabs with an extensive amount of information, visible without requiring the downloading of any documents. In addition to the standard product descriptions,  under the tabs, website visitors have easy access to a product's features and benefits, dilution and usage instructions, formula specifications, safety information, and (if applicable) that product's efficacy information. Plus there is also Documentation, in the event one wants to view, download, or print a document, such as Technical Data Sheets, Safety Data Sheets, and Efficacy Data Sheets. The videos that are found on our YouTube page can also been seen under the video tab on the corresponding product's dedicated page.
On the individual product pages, we have also attempted to eliminate as much of the guesswork as possible by displaying Companion Products in the lower portion of the screen. The page may be dedicated to a singular product, but in the Jan-San industry, one product alone does not get the job done by itself. Floor strippers must be used before applying floor finishes, dishwashing detergents and oven cleaners both work in commercial kitchens, workers need to clean restrooms with bowl cleaners while restocking dispensers with hand cleaners, and so on. Complimentary products and equipment are used in conjunction with a product to deliver the end result of a completed job. Each product page now displays the other products which work best and are most preferred to work with the spotlighted product.
While the additions to the individual product pages now provides a wide array of information for each individual product with a new and sleek design, the most substantial addition to our new website is our Product Selector. This tool is the most comprehensive aid to those in the Jan-San industry. No matter what category you seek a product: floor care, restroom care, degreasers, disinfectants, food service products, or any other area covered in our extensive catalog, the Product Selector ensures that you will find the appropriate product for what you need accomplished. Each category brings up a drop-down menu of selections specific for the category you chose. Answer as many questions as you can, and the product selector will determine which of our World Class Cleaning Solutions will best accomplish your cleaning goals. With each selection, the Product Selector Tool recalibrates to scour the information and deliver you the ultimate best option, according to your specifications. No more endless searching and research. No more guessing games. We do the work for you so you can make the right choice the first time and save you time and money.
The Product Selector Tool has been designed to provide the ultimate in information and resources to end users, maintenance supervisors, and also customer service representatives at distributorships. This new, interactive feature not only ensures that end users will be able to complete their maintenance tasks with complete confidence, but distributors can now recommend specific products and solutions with the utmost confidence. This will increase the trust from end users toward their local distributors and further their loyalty.
Along with the addition of the Product Selector Tool, we have also implemented new sections dedicated to the core market sectors of education, retail, healthcare, heavy industry, government/municipal services, and building service contractors. With this focus on these core industries, we will continuously work to develop programs and market products which best serve the jan-san needs of facilities in these sectors.

We realize your time is valuable, so we hope you find our newly redesigned website easy to navigate and you are able to access the information you need efficiently. When you do have a spare moment, take time to explore all of the new pages and different options our site has to offer.
Welcome to the new nclonline.com
June 17, 2016