Monthly Archives:
July 2015
Price versus cost.
Many would think this is the same.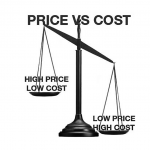 But the reality is they are not even close. The price is what you pay for a given item when you purchase from your vendor. The cost is based on how long it will last (dilution or longevity of item) and how effective it will work to make the job better, faster, or easier. Just because a gallon of floor stripper is five dollars less in price does not mean it is a good buy. What if the higher priced floor stripper has a dilution ratio four times higher (1: 4 vs 1:16) and works better at removing the finish quicker, better, and easier? Granted, you would spend less cash up front when you purchase the product but you will wind up purchasing more product to do the same amount of square feet and spend much more on labor because the product is not effective.
July 20, 2015
Effective June 1st of this year, The Globally Harmonized System of Classification and Labeling of Chemicals (GHS) system went into full effect. For many, GHS is something totally brand new, but the roots of this new system are anything but new.
The groundwork for GHS was first laid out in 1992 by the United Nations. With the rate of international trade of chemicals between different countries and continents on the rise, with no sign of reversing course, the need arose for a universally based system to warn end users of possible dangers contained in their chemical products. There are many similarities between some of the regulations, pictograms, and definitions and those found in Department of Transportation regulations and other OSHA regulations. Other countries have found similarities as well, but what GHS has done is eliminate any of the possible discrepancies that would occur when a particular chemical product was shipped from one country to another, and the label was foreign to the end user, causing confusion.
July 8, 2015