NCL Product Solutions


Wood Care Solutions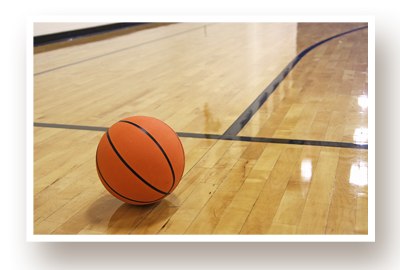 With over 50 years of expertise in the care and maintenance of hard surface floor surfaces, NCL has proudly pioneered new technologies for stone care, ceramic tile maintenance and resilient floor care surfaces.
Now, using advanced wood coatings technology, we provide you an easy-to-follow program for maple gymnasium floors and other commercial wood applications, maintaining wood with a deep, long lasting gloss and superior resistance to scuffing, soils and black heel marking.
We offer simplified wood care programs using water-based finishes that deliver exceptional results and require a minimum of additional training. These water-based products comply with federal VOC standards, as well as state and local VOC regulations. They promote worker safety and a healthier indoor environment while providing outstanding beauty and durability.

Wood floors in a modern school represent much more than just a gymnasium.
They are a focal point for school activities and a source of great community pride. The NCL Wood Care Solutions™ program will provide your wood floors withy many years of beauty, safety and performance.
NCL Wood Care Solutions™ provides a simple, complete line of products that can cost effectively maintain wood floor surfaces and achieve maximum performance. The finishes are easy to use, environmentally preferred, water-based single component systems.
NCL's breakthrough wood finish technology improves performance while simplifying product application and maintenance. Now it is easy to maintain attractive, high performance wood floors with confidence in your facility using NCL Wood Care Solutions™.
Try Wood Care Solutions from NCL, and see the difference our products can make at your facility.

One Component vs Two Component
Two component water-based finishes have been the market standard because they have clearly out performed single component products with better long term durability, scuff, and heel mark resistance. However, the second component, a catalyst, has health hazards associated with use, and catalyzed product must be applied within 24 hours, known as "pot life".
With new technology, Endura™ Ultra Premium Water-based Urethane Wood Finish is a single component system that out-performs the "market standard" two component finishes.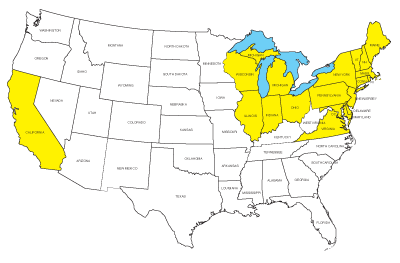 VOC's...
What are they?
Why are they important in Gym Floor Finishes?
Every floor coating contains two kinds of components, the parts you want (the "solids") that end up on what you are coating. The rest (the liquids, or "volatiles") end up in the air. Some volatiles (the so-called volatile organic compounds, or "VOCs") contribute to air pollution through the creation of Ground Level Ozone. This is especially important indoors, where air volumes are much less and air quality can be easily affected.
Water-based coatings are the solution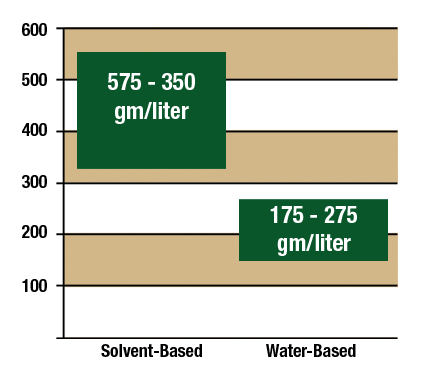 New technology in water-based wood floor coatings allows systems to be easily formulated at 275 gm/liter or below and yet provide comparable or even improved performance over traditional solvent-based systems. NCL advanced Endura™ formulation has a VOC level of 270 gm/litter.
Water-based vs Solvent-based
For many years the standard in gym finishes was the solvent-based oil modified urethane. One characteristic of solvent-based finishes is that they "yellow" or "darken" over time. Today gymnasiums incorporate extensive, highly colorful paint schemes and graphics. While many people feel the "yellowing" makes the wood floor look richer, infact, "yellowing" changes the colors of the graphics and the surrounding room becomes darker as less light is reflected.
Since launching the EARTH SENSE® Program in the mid-1990's, NCL has been at the forefront of providing the industry with third-party certified, environmentally responsible product choices. The low-VOC, water-based finishes and sealers used in the Wood Care Solutions™ program present distinct end-user advantages for worker safety and the overall health and well being of building occupants compared to traditionally manufactured wood coatings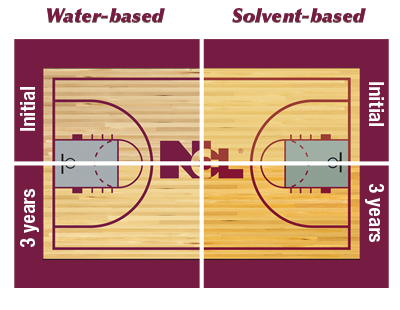 In recent years, many states have adopted VOC regulations that are more strict than even federally mandated regulations. As new technologies in chemical formulation allow these safer, more environmentally preferred coatings to rival or exceed solvent based products for performance, choosing the low-VOC products from the Wood Care Solutions™ program is your best wood care purchasing decision...for our planet, and for the health of your employees and guests. .

WOOD CARE SOLUTIONS products include:

ENDURA™
Ultra Premium Water-based
Urethane Wood Finish

BASELINK™
Water-based Wood
Floor Sealer

FAST BREAK™
Routine Wood Cleaner

PIVOT™
Intensive Wood Prep Cleaner

Mid-Court™
Waterbased Dust
Mop Treatment

One-On-One™
Oil Type Dust
Mop Treatment
WOOD CARE SOLUTIONS™ literature available: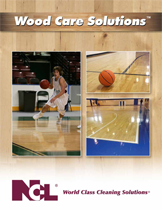 WOOD CARE Brochure
Click here to see the broad array of NCL Wood Care Solution products, equipment and accessories.