Posted on 10/26/2012 00:00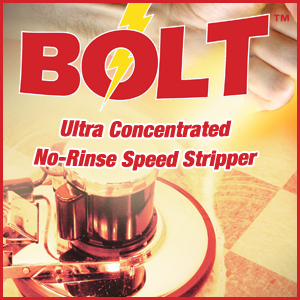 Bolt is an ultra concentrated formula that quickly penetrates and removes even extreme floor finish build-up.   Excellent wetting and slow drying features save time and labor. Compared to leading floor strippers Bolt™ is 2 to 4 times more active.  It contains no caustics, and does not require a neutralizing flood rinse.
CLICK HERE for complete information on BOLT™ Ultra Concentrated No-Rinse Speed Stripper.